Last week Virgin Media experienced some packet loss on their network, which in turn impacted my surfing experience for a number of hours. After running through some diagnostics on my own devices to confirm the issue was indeed down to Virgin, it occurred to me that it may be a good time to document my network. It's been something I have been meaning to do for a while, and you know, just not had chance to do it. So here goes…
The first step is to produce a network diagram, using Visio. Network diagrams are a valuable resource to the IT professional, quite often it's the starting point when diagnosing network problems, and alongside that, being able to effectively use tools such as Visio to produce an accurate network diagram is an essential skill.
Network Diagram
Below is a Visio diagram of my home network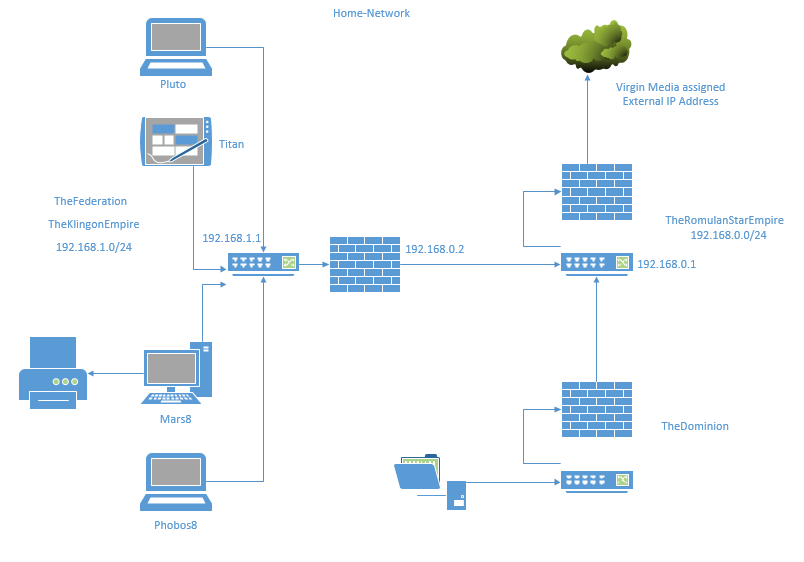 There are 4 wireless networks, TheFederation, TheKingonEmpire, TheRomulanStarEmpire & TheDominion.
Network Devices
Linksys E4200 – Dual band N Router, access the internet via wired or wireless connection, supports Dual Band technology (2.4 & 5 GHz) to maximise bandwidth and avoid interference. With Gigabit Ethernet, built in USB port and IPv6 enabled this is a superb device and reasonably priced.
Both wireless networks (TheFederation & TheKlingonEmpire) are configured and enabled, assigning IP addressed in the 192.168.1.0/24 range.

Virgin Media Super Hub – Delivering 100MBs high speed internet connection, and also wireless network TheRomulanStarEmpire delivering IP addresses in the range 192.168.0.0/24
Belkin Wireless Cable Router – Hosts TheDominion wireless network, connects home server to the network. The home server is going to be a network storage location, the Dell 1850 has mirrored drives so gives be some redundancy. Currently I'm still working on this part of the network.
Client PCs & Tablets
Titan – Surface 2 – Windows RT 8.1
Pluto – HP Spectre 360 – Windows 10 Home
Mars8 – Dell 3000 Desktop – Windows 10 Home
Phobos8 – Dell M5040 laptop – Windows 8.1 Pro
Home Server – Dell 1850 Server running Windows Server 2008
There are numerous other devices like phones, iPads, kindles which connect to the wireless networks, normally I recommend the user of those connect to TheFederation.
So that's the basic layout of my home network, quite simple and easy to maintain, I very rarely have any issues and when I do its normally Virgin Media.
Thanks for reading
TSP Admin