09:00 – Got up late, stayed in bed listening to the 5 Live Breakfast Show, presented by Chris Warburton (@chriswarburton_).
10:00 – Breakfast, watched Saturday Kitchen Live. I was surprised this went ahead but it did. The three chefs on the programme practised social distancing, with a couple of the guests connected by video link. It worked out well.
11:00 – Its Ben's 18th birthday today, his mum organized all of the neighbours to come out and wish him happy birthday at 11 o clock. It was fun but I really felt for him, he took it well.
12:30 – Watched Click (@BBCClick) on the BBC News channel. This is the BBC flagship tech show. Today they talked about how technology is being used in the COVID-19 crisis. Apps they talked about were Zoom & Houseparty. Many people are using these to keep in touch with friends and family along with schools, colleges and universities for educational purposes. There was also a nice piece about VR and how it can be used for virtual conferences. From there they mentioned a couple of VR apps for entertainment, a Zombie shooter called Arizona Sunshine was recommended. This has motivated me to find my VR headset and give it a try, more on that in a later post.
13:00 – Lunch, Tuna sandwiches.
14:00 – Lily & Nic made come cookies. Lily loves this sort of thing and the end result was definately worth it.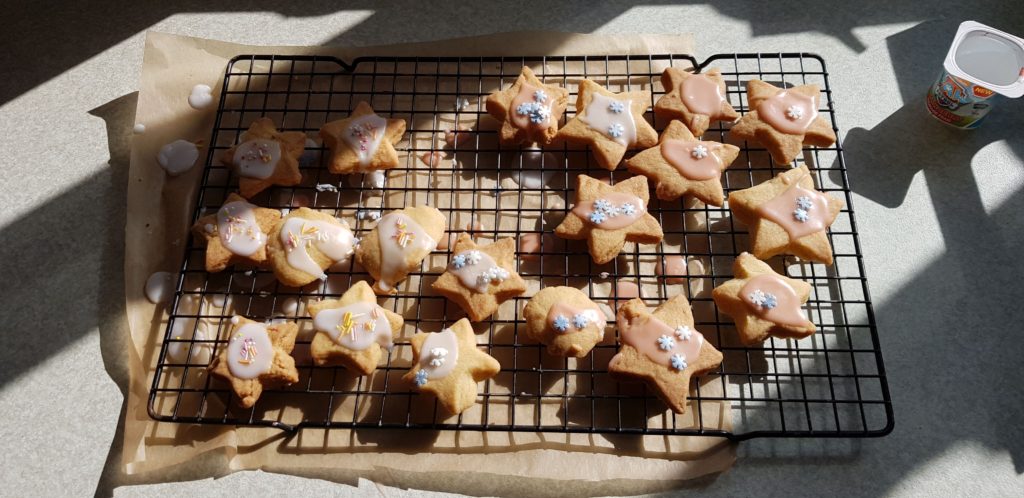 15:00 – Walk Daisy.
16:00 – Website admin
22:30 – Watched Match of the Day, in this episode Gary Lineker, Alan Shearer and Ian Wright discussed who was the greatest ever Premier League striker. If you like football, its worth a watch.
23:30 – Watched a couple of episodes of the comedy Extras. I had not watched this before and it was very entertaining.
00:30 – Bed
Stay safe
TSP Admin.