So, I'm on holiday this week (11th – 18th July 2015) and I thought it would be a good opportunity to detail what tech I've brought along for the ride and what online services I can use based on the availability and quality of internet access.
Let's start by going through the devices I have with me.
Surface2 – This is becoming my laptop replacement when on the road. Thus far it has been a positive move, there is nothing this device can't do that my laptop can when on the road. I'll keep this test running update over the next few months.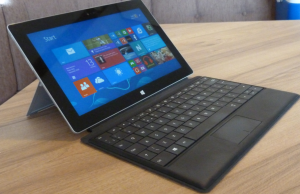 Kindle Fire – Nice E Reader, I have a substantial kindle book library and this device is the best available to support that. It also has good app support which my daughter appreciates.
Lumia 930 – Latest daily driver, has a great camera which I'll be comparing to the FZ45
Panasonic FZ45 – Dedicated camera which I have been using since 2011. It takes superb shots and has a 16 mega pixel camera with a x24 zoom lens. It will be interesting to see how the 930 compares.
Misc. – Various cables and chargers for all the devices detailed above
Wi-Fi – Well the Wi-Fi available at holiday parks seems to be very poor, this was first brought to my attention by Eli the Computer guy in one of his articles on www.GeekBrainDump.com . Here he ran a continuous ping test to the default gateway and recorded the results, which were pretty bad. His results showed response times in excess of 4000ms, not good for normal usage (emails, general surfing) but no chance of uploading videos.
The holiday park in south Devon I'm staying at this week www.leonardscove.co.uk has a number of hotspots available to connect. Sign up to their service (£12:50) for a week, and off you go. However once connected the service is poor. I ran a ping test to the default gateway, results below…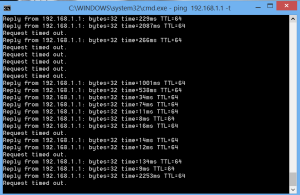 Some of the ping times are > 2 seconds, not good for anything really. Hopefully this will improve during the week, I'll keep monitoring.
So these are the devices and services I'll have with me over the next week or so. My conclusions will be documented in part 2, stay tuned.
To find this post or others like it, just search Blogs from the home page
Thanks for reading
Admin – TechSupportPro | uk