In this series of posts I  detail my day to day work as a Technical Support Professional.
Damaged 2850
Back before the Christmas holidays I was asked by a customer if it would be possible to replace their ageing and increasingly unreliable Dell 2850 server with a newer more reliable one, still a 2850 but one which has a know history, and fully tested.
Not a problem, we have a number of 2850's in stock and I've had one bench testing for the past few months, all good so far… The plan is to ship the server to the customer who will then install it in their test environment, run load tests over the Christmas and New Year period with the aim to install mid January if all goes well.
I gave the server one last check using the Dell Server Admin software (more on this very useful tool in a later post) and securely boxed the server for shipping to site.
The next day the server arrived as expected, then the phone call came in… Was the server damaged when you shipped it? Err no, what has been damaged? I replied, fearing the worst. One of the mounting brackets has been badly dented, must have happened in transit, see below…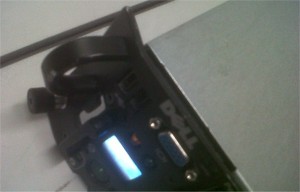 I advised the customer to power up the server and check that it still functions, a hit this hard could have caused any amount of other issues and internal damage. Fortunately though all seemed fine and it was left testing over the planned period.
The reality is that this server is not going into a live production environment with the damaged face plate so one of my first jobs in 2015 was to head to site and replace the damaged part.
The procedure its self is quite straight forward, just 11 screws (9 star headed & 2 cross headed) to be removed and the face plate comes off. To install the new, just line it up and screw into place. As can be seen below, the server is now ready for a production environment.

Final Thoughts
The server is still in the test lab, some political issues within the customers organisation are holding up the installation process, however these are expected to be resolved in the next few weeks. No hardware issues are preventing this server from going live.
To find this post or others like it, just search 2850 from the home page
Thanks for reading
Admin – TechSupportPro | uk