With the Reikland Reavers riding their luck and taking a 1-0 victory against the hardy Grudge Bearers, the human side is on the road again, this time taking their unbeaten record to the Cradle of Pride, home of the Feliroin Charioteers, a High Elf team famed for their speed and agility.
1st Half
The Reavers won the toss and elected to receive the ball. Their head coach, looked to take advantage of their opponent's fragility, packing the line of scrimmage, the spearhead, Ogre blocker "Dar Mangler", supported by Linemen and Blitzers.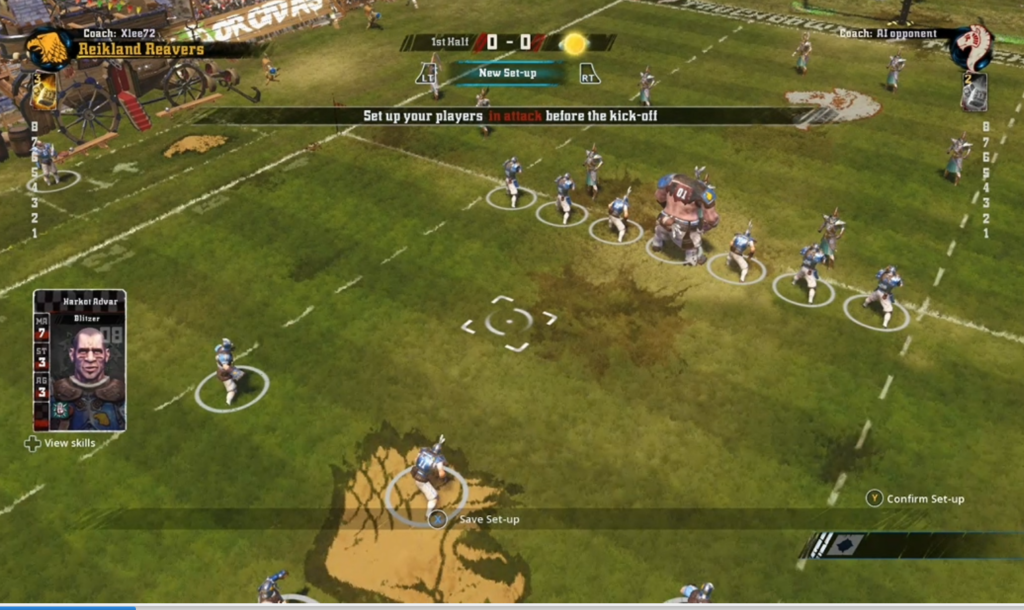 The Charioteers send the ball deep, the Reavers back line has enough manpower to secure it and form an attacking posture. The battle at the front swings slightly to the Reavers favour, as Dar Mangler makes a few crunching blows and slowly advances forward, Blitzers and Lineman picking up the pieces just in behind.
Just as things start to look good for the Reavers, their Blitzers looking to break the defensive lines of the Charioteers, the handling errors that have plagued previous performances resurface and the ball is fumbled, the Elven lineman sense this might be their moment to strike. Now on the defensive, the attacking play in disarray, the Reavers regroup and just prioritize ball retention.
Over the next few turns, the match descends into a barroom brawl, both sides trying to gain territorial advantage and control of the football. Ogre blocker "Dar Mangler" makes a number of decisive blows freeing up valuable space for the Reavers Thrower, "Manfred Mahia" who breaks through the lines into the opposition half. With the ball in hand and backed up by the Blitzers, Mahia tries a desperate move, a long bomb to the end zone where a lone Lineman awaits. The pass is wayward, incomplete, and as the half time whistle blows, both teams trudge off to the sidelines.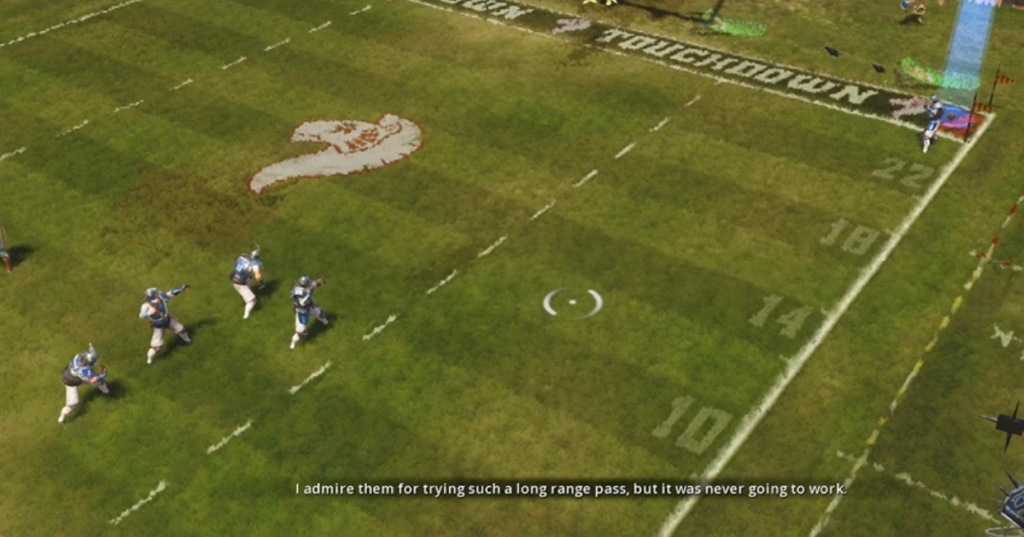 As the teams make their way off the pitch, the Reavers must organise their defence, they will need to make quick inroads into the Charioteers attacking lines to neutralise any threat.
2nd Half
We Join the match early in the second half, the Reavers Blitzer "Admund Wulf" has broken through the Charioteers defence and has a clear path to the end zone, enjoy the rest of the match.
So, the Reavers move on, hope you enjoyed the match, till next time take care.

TSP Admin