Up until today the Coronavirus crisis had just been a very worrying news story, something I was following, watching, listening to the daily news reports, expecting it to affect me and my family at some point but unsure exactly when. Well, today was the day it hit, the 23rd March 2020.
I'm off work, don't know when I'll go back. Schools were closed on Friday (20/03/2020) so Lily is off school as well. Nic is off too because Lily has a cough so we are self-isolating, two weeks, 14 days. Val cleared my diary for the foreseeable future over the weekend. It now starts to get real.
05:15 – Wake up and listen to "Wake up to Money" on BBC Radio 5 Live, great little show this, it only runs until 06:00 but gets all the main news stories in but reports on them from a financial point of view. Hosted by Sean Farrington and for this episode, they drafted in legendary Micky Clarke.
06:00 – Time to watch GMB (Good Morning Britain) on ITV to get Piers Morgan's take on the situation. Blimey did he give the health secretary Matt Hancock a grilling. It was a superb interview, both came out of it well.
09:00 – Window cleaner arrived, had a chat about the situation and what the self-employed can do. We will just have to wait for more government announcements, some are expected later in the week. £12.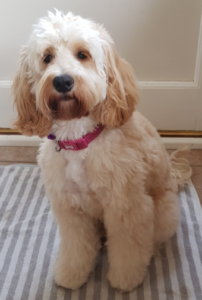 10:00 – Took Daisy to the park, she chased the ball around for a bit, we did not see anyone speak too. I Walked back via the woods and listened to an episode of the Higherside Chats podcast. In the episode, Greg interviewed David Crowe, a telecommunication consultant. A link to the show is below.
11:30 – Filled in an online job application to Iceland Frozen Foods or a part-time delivery driver.
12:00 – Got my bike out of the garage and gave it a clean, no need to use the car and to save diesel I'll just use the bike. It's nothing special but will do the job, purchased back in 2004, £80 from Mikes Bikes on Mill Road, glad I kept it. I need to go to the shops later and it will be great for that.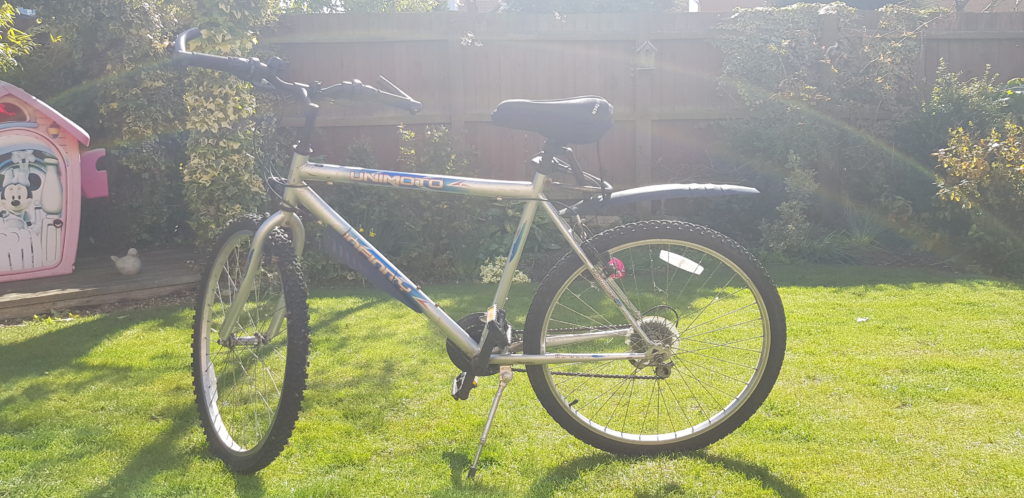 13:00 – Lunch, made ham sandwiches for the three of us, crisps, and yogurt for dessert.
13:40 – Filled out a job application for Deliveroo, maybe I could be one of their riders, who knows?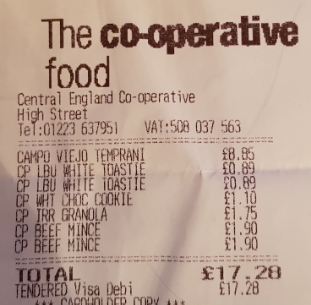 14:30 – Off to the shops, need a few supplies just to keep things topped up. I Went to three stores, Co-Op, Spar & Londis. Got most things from Co-Op, however no Tomato Puree, Baked Beans or tinned Tomatoes in any of the three stores. Here what I purchased, total spend £17.28
Bumped into Mark while I was out, we kept our social distancing procedures in place, felt really strange. Chatted about work, hopefully, the Chancellor will announce something the self-employed in the coming days
16:20 – Back home, split the mince up into portions, which should last us a couple of weeks. Unfortunately, the wine will go tonight!
16:45 – Out in the garden messing about with Lily & Daisy, we play a game with a couple of tennis balls, this ensures the game carries on when Daisy get hold of a ball, she is reluctant to give it back once she has it.
17:20 – Back inside and put on 5 Live Drive, with Tony Livsey. Find out Boris Johnson is chairing a Cobra meeting and his daily press conference will be pushed back to 20:30. It will be broadcast live on BBC1. Start to cook dinner, spaghetti bolognese, and garlic bread, yum!
20:30 – Big announcement from the PM this evening, UK is now in lockdown, the announcement is… STAY AT HOME, only go out for the following reasons. These measures are in force for three weeks.
Shopping for basic necessities, for example, food and medicine, which must be as infrequent as possible.
One form of exercise a day, for example, a run, walk, or cycle – alone or with members of your household.
Any medical need, or to provide care or to help a vulnerable person.
Traveling to and from work, but only where this absolutely cannot be done from home.
22:30 – Bed, depressing, who knows where we will be in three weeks' time. Daily spend = £29.28
Stay safe, TSP Admin