On the 1st January 2015 TechSupportPro.uk launched. One year on I thought it would be worth reviewing the year just gone, from where the blog started to where it is now. There were a lot of unknowns going into the project, what was I going to write about? Would I get any traffic to the site? How would I get visitors to the site, and who would they be? Well, here is what happened, read on….
January – The year got off to a slow start partly due to my lack of experience using word press, or any content management systems for that matter, however I did managed to report on a site visit completed in early January. In that post I discussed the repair to a file server, the server was waiting to be installed into a production environment but some damage to the front panel was delaying its deployment. Page views in January = 187.
February – Only one post this month, regarding upgrades. If you are a Technical Support Professional, you will know all about upgrades and the work that goes in to planning, scheduling and testing. For my opinion on upgrades and how to prepare click here. Page views in February = 96.
March – During March I was deep into the material for the 412 Microsoft certification. With the exam in early May I had a lot of material to cover, so the only post out this month was my study notes covering NLB Clusters. Page views in March = 145.
April – Quiet month for the site, no posts were published. Easter holidays and exam revision took priority. Still, it was the busiest month so far in terms of page views. Page views in April = 193.
May – Another quiet month, however the post published was all about configuring failover clusters in Windows Server 2012, a complex subject but one to really get your teeth into. Well worth having a look at and even trying in the lab. To read my post on failover clustering click here. Page views in May = 1006 which was a record, and thanks in part to the two retweets shown below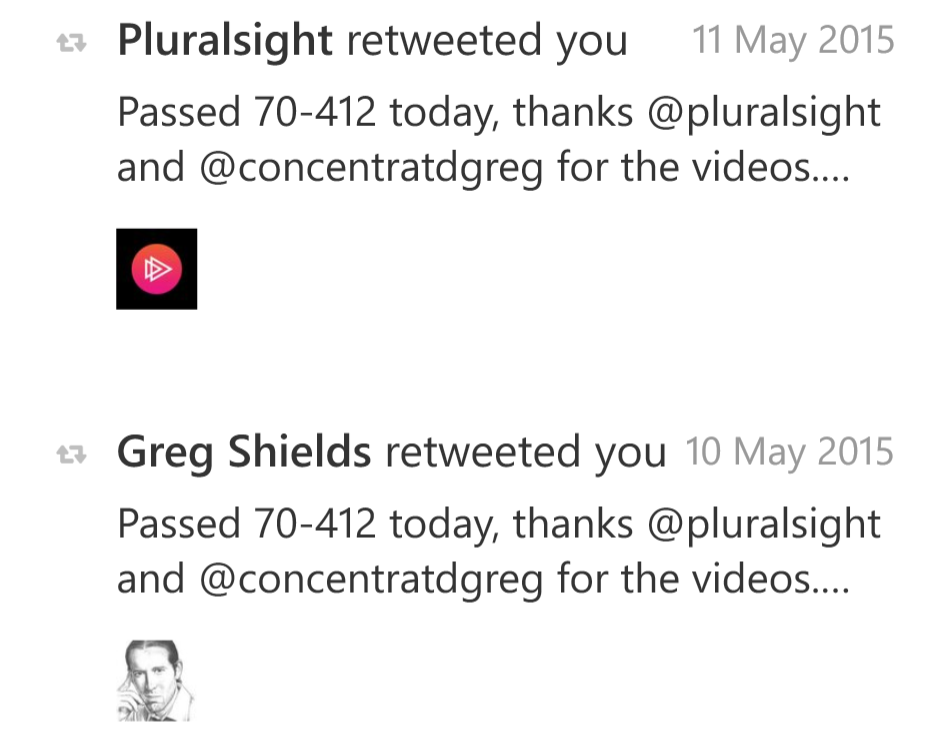 I'm a Pluralsight subscriber and I cannot recommend them enough, and the 70-412 series of videos from Greg Shields are superb.
June – No posts published this month, work on the 70-411 Microsoft certification took priority, however traffic was still good and the page views were 603.
July – With 4 posts published this was the busiest month so far for the site. Page views were also at a record level beating the previous best with a total of 1043 which is yet to be beaten. Passing 70-411 early in the month helped, again retweets from @pluralsight and @concentratdgreg supported. During July I talked about the tech I take with me on holiday and the services I use, in a series of posts titled "Tech on Holiday." links to these posts are shown below
August – With my certification paths on hold August turned into a really active month for the site with 6 posts published. Two highlights were about Windows 10 privacy settings, where to find them in the OS, what functionality each setting enables. Links to these articles are below
Blog: Windows 10 Privacy Settings
Blog: Windows Update Delivery Optimization – This post received a favourite, see below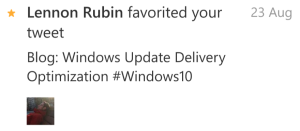 The site theme changed during August, gone was the basic WP Inspire Writer, replaced by the Go Daddy Techtra theme, which delivers a more polished appearance. Page views in August = 810.
September – Five posts published, these included a write up of the long awaited Surface 2 update to provide some Windows 10 functionality to the device. This post can be found here
I also wrote about using the File History functionality in Windows 8.1 & 10 to support your backup strategy, this post can be found here
October – Continuing the backup theme from September, I wrote about Windows Server Backup. A useful tool which comes with Windows Server 2012 as standard. Well worth a look if you have any production servers in need of a backup routine, click here for details.
In the second half of October the build up to Future Decoded started, Microsoft premier event for IT Pros, hosted in ExCell Conference Centre, London, UK. I wrote a preview of the event which can be found below.
Blog: Future Decoded – Preview
November – Dominated by Future Decoded, my write up of day 2 can be viewed below.
Other notable posts include a review of my home network configuration. This was a really nice post to put together, and it was a process I really enjoyed, to read about my home network click here. Page views were back up this month to 592.
December – 70-412 content this month to finish the year off, the two posts covered "Advanced File Services" & "Dynamic Access Control." DAC is one of my favourite subjects in the 412 cert, I really enjoyed putting the post together and trying the technology out in my lab. I'd strongly recommend you try it for yourself.
So that completes the year, a lot of work and some posts I'm really pleased with. Below is a screen shot of the page views, month by month January through December. July got the most hits, but the traffic to the site has gradually grown, and shows I have something to build on in the coming months and years ahead.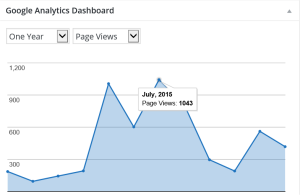 Again, thanks for the support and as ever thanks for reading.
TSP Admin
910 total views, 1 views today